Meditation Mist
meditation mist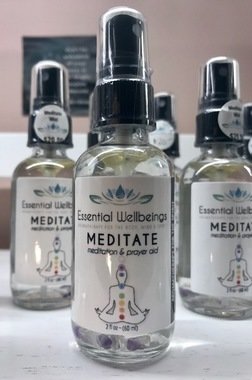 Meditation mist is used as a meditation and prayer aid to quiet the mind, awaken a state of higher consciousness, connect to one's higher self, as well as purify and protect one's energy.
Essential Oil & Crystal Blend
~ Frankincense ~ Brings body and mind into a meditative state, helps connect one to the divine, and let go of old pain & emotional blocks.
~ Palo Santo ~ Purifies the mind and elevates the spirit.
~ Myrrh ~ Helps calm worry & over-thinking, grounds, purifies, and awakens spirituality.
~ Ylang Ylang ~ Creates a feeling of peace and dispels anger.
~ Sandalwood ~ Helps the mind move into the deepest state of mediation and is grounding.
~ Lemon – Promotes a sense of opening and expands ones' energy field.
~ Quartz Crystal – brings mental clarity and focus and activates all levels of consciousness.
~ Amethyst Crystal – activates the third eye & crown chakra and helps bring a deeper awareness & meaning to our-self.

USAGE: Shake well before each use. Spay 2 - 3 times over head before sitting in meditation.
INGREDIENTS: Water, wild harvested Frankincense (Boswellia carterii) essential oil, wild harvested Palo Santo (Bursera graveolens) essential oil, wild harvested Myrrh (Commiphora myrrha) essential oil, organic Ylang Ylang (Cananga odorata), organic Sandalwood (Santalum spicatum) essential oil, organic Lemon (Citrus limon) essential oil, with Clear Quartz crystal chips and Amethyst chips.